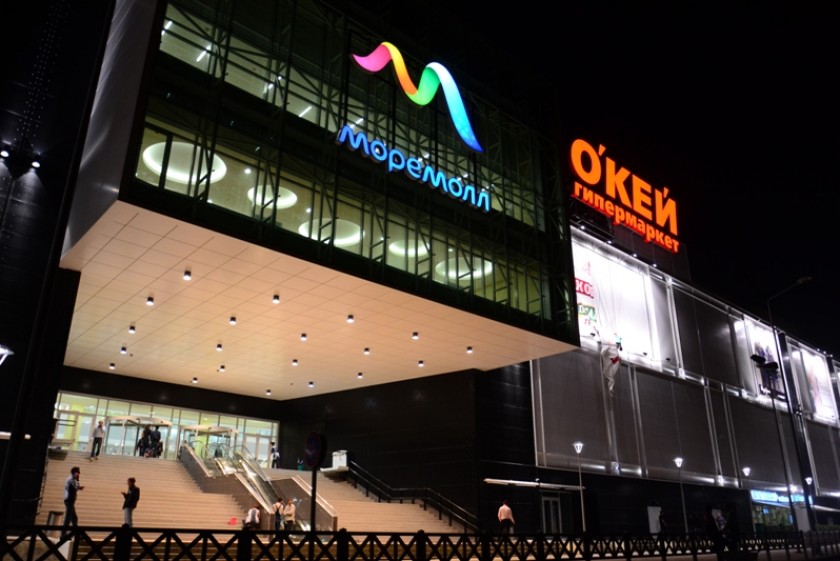 'MORE' Mall Success for Dyer
Hot on the heels of the recently completed 227K sq m Oz Shopping and Entertainment Mall in Krasnodar Dyer is pleased to confirm that the largest and most exclusive shopping mall, Moremall, in Sochi, home of the 2014 Winter Olympic Games, opened for business on October 27 2012, it is considered the first truly 'western' style centre in the region. It has been constructed in the central district of the capital. The Moremall, 160K sq m shopping centre, has quickly become the main place for shopping and amusement and it anticipated that it will receive more than 12 million visitors annually.
This is the second completed major project in Dyer's growing retail portfolio this year. Dyer was commissioned by TPS to prepare the scheme design proposals for the layout, exteriors and interiors and the detailed design for the interiors. Prior to the concept design concept design commencing TPS, at Dyer's invitation, visited a number of major recently completed shopping centre development in the UK. They were extremely impressed with Westfield, this, as illustrated in the images below, became a major influence on the interior design of the MoreMall.
MoreMall houses dozens of familiar brand name stores and boutiques, including a couple of really big names like Pepe Jeans, H&M, Lacoste and Zara. All in all, there are more than 200 retail stores here, selling everything from clothes, perfumes, jewellery and accessories to electrical goods, books, watches and home ware.
MoreMall also boasts of more than 40 restaurants and cafes, an eight-screen cinema, and a 5,000 sq. ft. leisure area which hosts concerts and shows on an almost daily basis. It's fair to say that MoreMall has pretty much transformed the shopping experience in Sochi.
Car parking for 3000 cars has been provided and it is anticipated that the centre will generate in the region of 11,000 new jobs for the region.
Building on our retail and mixed use success in Russia we have three other major shopping and entertainment projects on site at different stages of completion:
35K sq m Komsomolets Shopping Centre Krasnogorsk
66K sq m Red Whale Phase Two Mixed Use Development, Mytishchi Moscow Russia
23K sq m Red Whale Phase One Shopping Centre Refurbishment of Interiors, Mytishchi Moscow Russia
Whilst in the UK since completing Gloucester Quays in 2010, for Peel developments Ltd, we have strengthened our retail portfolio by the inclusion of a number food stores to support Wm Morrison Supermarket Plc's growth, including the recently completed store in Eastbourne and Portsmouth as well as the construction of a fully glazed pavilion adjacent to the Tower of London for Costa Coffee.